Click here for Reserve COVID-19 updates, including Border Field.
Vehicle Gate Status: CLOSED. Read more…

EFFECTIVE (January 15, 2022): Border Field State Park is temporarily closed to all access due to flooding from recent storm activity. Vehicles, pedestrians, and equestrians are not permitted. Some roads and trails may be flooded with sewage contaminated water and mud.
State Parks will continue to use a monitor and adapt strategy to meet any new guidance it may receive from local and state public health officials as COVID-19 is still present and still deadly, especially for the elderly, immune-compromised and the unvaccinated.
Phone: (619) 575-3613
Entrance Fee: $7.00 per vehicle
Park Hours of Operation: 9:30 a.m. to roughly sunset – closing hours change seasonally, read more.
Special Events and Group Visits: more than 25 people requires a permit, read more.
Park Rules and Regulations: click here.
Virtual Tour of Monument Mesa: take a walk with the Google Trekker
Border Field State Park
Located within the Tijuana River National Estuarine Research Reserve, Border Field State Park sits in the very southwestern corner of the United States, 15 miles south of San Diego. This important wildlife habitat, comprised of sand dunes and salt marshes, gives refuge to critically threatened and endangered birds such as the Western Snowy Plover, the California Least Tern, and the Light-footed Ridgway's Rail.
The park provides restrooms, picnic areas, barbecues, horse corrals, interpretive displays, and scenic views across the beach and estuary. Visitors enjoy hiking, horseback riding, photography, and bird watching along the 1.5 mile stretch of beach and inland trails. The Park does not recommend swimming or wading, due to hazardous conditions, such as inshore holes, rip currents, and the lack of lifeguard service within the Park.
The Treaty of Guadalupe Hidalgo was concluded on February 2, 1848, officially ending the U.S./Mexico War. In 1850, delegations from both countries began surveying the boundary at this location. Border Monument number 258 can be viewed from Monument Mesa, however there is no close access because it is now behind two border fences. You can still see the bunkers which were leftover from World War II. Read more about the history of the area.
Access to the Border Monument at Friendship Circle
Friendship Park and the Bi-national Garden are open to the public year-round on Saturday and Sunday from 10:00am – 2:00pm. Any document verifying legal residence in the U.S. (e.g. Driver's License) is sufficient to gain access to Friendship Park. For more information, please contact the Border Patrol Public Information Office: 619-216-4182.
Border Field FAQs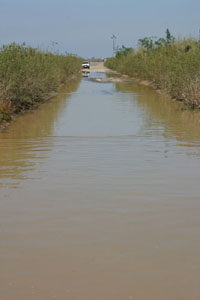 Is the Park open? Why is the gate closed?
Yes, Border Field trails are open to hikers, bicyclists, and equestrians every day until sunset. The gate closes due to flooding from urban and storm water runoff, restricting vehicle access during the wet season. This contaminated water is a health hazard and should not be entered by foot, bicycle, or vehicle. The gate opens, on weekends only, for vehicle access during summer months when Monument Road is completely dry.
I was told by U.S. Customs and Border Protection agents that I can't be here. Are you sure I am allowed to be in the Park?
You have every right to be in the state park as long as you are on a designated trail. You do not have a right to be on the federal property immediately along the border which includes Border Monument #258.
Are Border Field State Park, Monument Mesa, and Friendship Park the same place?
Not exactly, this document will explain the difference between each and the other places found within the larger Reserve.
How do I get to Monument Mesa?


Wet Season


Go through the metal gate and head west to the beach. Once at the beach, turn left towards the south and head to the mesa. There is a trail up to the mesa on the north and west side.


Dry Season


Go through the metal gate and follow the paved road. Monument Road eventually turns into a gravel road; follow this uphill into the picnic area.
Why is the road frequently flooded?

We painfully recognize that since the storms of 2005, the Monument Mesa portion of Border Field State Park is inaccessible to public vehicles for, typically, 5 months of each year. In 2005, sediment flowing from intense storms changed the topography of that part of the park such that the park entrance road is the low spot in the surrounding area and there is nowhere for the water to flow to. We would love to provide a permanent fix to this problem, but it will involve major earth-moving in a wetland area and costs may exceed $4 million. We continue to search for a source for these funds.

Where can I go to see the border fence?
The border fence is along the southern boundary of Border Field State Park. Close up access is on Monument Mesa, which boasts views of the Tijuana Estuary and Playas de Tijuana, Mexico. The first monument marking the U.S./Mexico border is still visible through the border fence. Interpretive signs around the picnic area describe the history of the monument and this unique border area. The best time to visit Monument Mesa is during the summer when Monument Road is not flooded and vehicle access is permitted.
What kinds of birds will I see?
Over 370 species of birds have been observed in the Tijuana Estuary and Tijuana River Valley. A bird lists is available at the Tijuana Estuary Visitor Center in Imperial Beach. Raptors such as the Northern Harrier, American Kestrel, and Red-tailed Hawk frequent the mesas. As you walk by willows and mulefat, listen for Least Bell's Vireo, Yellow-breasted Chat, and Common Yellowthroat. The endangered Light-footed Ridgway's Rail and sensitive Belding's Savannah Sparrow live in the marsh.
Why is the dune area at the beach fenced off?
The endangered California Least Tern and threatened Western Snowy Plover nest on the dunes. Chicks hatch out at the size of a walnut and camouflage with the beach. Keep horses out of dunes, salt marsh and fenced areas. Riding on the hard-packed sand reduces risks to chicks, nests, and eggs.
Are there snakes in the Park?
Border Field supports several species of snakes, many non-venomous. Rattlesnakes, however, may be found on trails or Monument Mesa in Spring and Summer. They are important members of the natural community. They will not attack, but if disturbed or cornered, they will defend themselves. Give them distance and respect.
Is there pollution in the area?
Sewage contamination continues to be an issue in the Tijuana River Valley, but much has improved in recent decades. International partnerships and the development of the South Bay International Wastewater Treatment Plant have largely limited sewage contaminated flows to the rainy season. During drier summer months, there is very little flow and the estuary remains one of the healthiest coastal wetlands in the region.
Rules and Regulations
The following rules and regulations are for your own safety and to protect the plants and animals that live in this Reserve. For additional information, please check out this brochure.
Dogs.
For the safety of the Park's threatened and endangered birds,

dogs (only on leash) are allowed only atop the Monument Mesa picnic area

. Therefore, only when the road is accessible to public vehicles (when the road is not flooded).
No harassing or disturbing wild animals.
This is prohibited by state and federal laws.
No collecting.
Shells, rocks, wood, plants or animals. As a State Park, all features are protected. Please don't dig, collect, break or in anyway disturb the natural and historic features found in Border Field State Park. Help us save them for future generations to enjoy. And, anyhow, it's against the law.
Special Events and Group Visits.
A Special Event Permit is required for any company, society, organization, or group of persons (including schools) greater than 25 individuals. Any group that has alcohol or catering is required to have a permit for any size group. Read more…
Enjoy!
If you are new to the area, or if you just haven't ventured this far south, you will have a unique experience where these two countries meet. It is interesting and educational but more than that, it is a delightful way to spend an active or relaxing day surrounded by the breeze and the beauty of the sea.